Carrimycin drew much atttention as major achievements of significant new drug creation
Source:
time:2019-08-12
Views:
The Ministry of Science and Technology and the National Health Commission held a press conference on the "Significant New Drug Creation" of National Science and Technology Major Project on the morning of July 31 in 2019. The conference introduced the progress and achievements of this project to the society and the media, as well as new drugs supported by the project. Experts answered questions from reporters. Prof. Wang Yiguang from the Institute of Medicinal Biotechnology attended the press conference as the main developer of the national first-class new drug, carrimycin, and sat on the rostrum as an expert representative of the scientific research team.
As an innovative antibiotic developed by synthetic biology technology for the first time both at home and abroad, our country has independent intellectual property rights of carrimycin. Its development has gone through more than 30 years. Its studies have got continuous research funds such as National Science and Technology Major Project, Natural Science Foundation of China, etc. So far, it has authorized by 16 domestic patent invention authorizations and 36 international patents. Carrimycin has a good effect on upper respiratory tract bacterial infection, and has the characteristics of safe administration, low oral dose and low adverse reaction.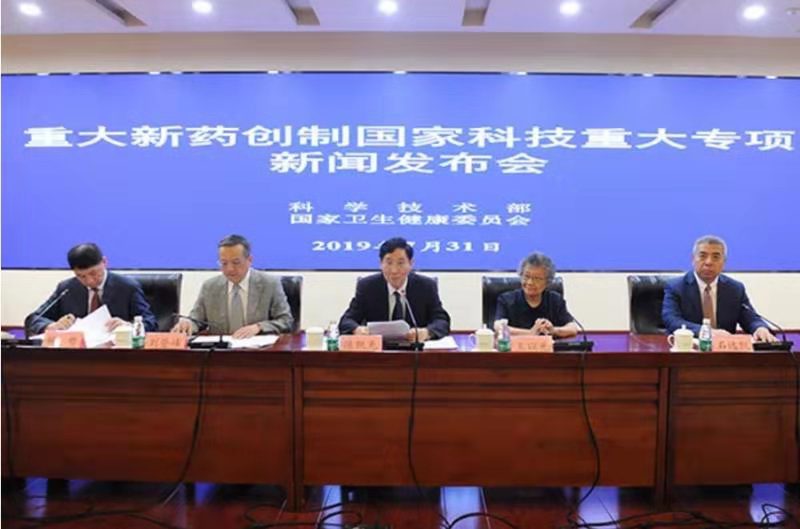 The new drug achievements of carrimycin and Professor Wang Yiguang have received extensive attention from the news media, and they have interviewed and reported this project. Professor Wang Yiguang gave a comprehensive introduction to development and characteristics of carrimycin with the firm, rigorous and humble attitude of a Communist Party member and scientist. She said that she has engaged in antibiotics research and development all her life. When she encountered the bottlenecks of technical innovation, inadequate conditions for research, and the pressure of public opinion, she repeatedly emphasized the word "persistence". She always insists on the persistent innovation and dedication of scientists with the original intention and mission of a Communist Party member. At the same time, she never forgets and appreciates the support and help from government, the Chinese Academy of Medical Sciences, Institute of Medicinal Biotechnology, as well as cooperative institutes and enterprises.
Professor Wang Yiguang and carrimycin were reported on CCTV news channel "Zhaowen Tianxia", CCTV network, Guangming Daily, Xinhuanet, Global Times, etc.